1858 Flying Eagle Cent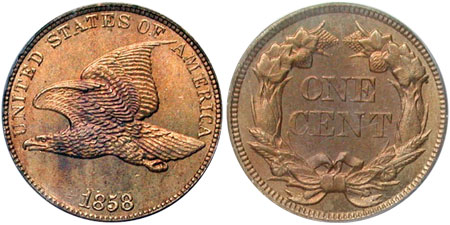 The 1858 Flying Eagle Cent was the final year of the series, replaced in 1859 by the Indian Head Cent. Thus, the entire series of Flying Eagle Cents comprises the pattern issued in 1856, and two issues produced for circulation.
This year produced a number of varieties.  The "large letters" and "small letters" varieties can be distinguished by examining the lettering of the word "America" on the obverse. For the large letters variety, the letters "A" and "M" will be joined, while for the small letters variety, the letters will be separated.
Another variety is the 1858/7 overdate, believed to be a refurbished die from the prior year with the 8 added.


---