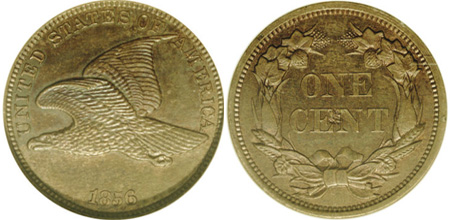 The 1856 Flying Eagle Cent was actually produced as a pattern, although it is typically collected as a regular issue of the series. Due to its limited total mintage, the coin has come to be recognized as a key date and carries a high value at all grade levels.
By the 1850′s problems were becoming apparent for the one cent denomination. The large cents in circulation were considered to be too bulky and as a more pressing issue they had become more expensive to produce than their respective face value. After testing various allows and designs, the United States Mint proposed the new small cent featuring the Flying Eagle design as a solution to the problem.
Initially, a quantity of 600 or 700 pieces were produced carrying the 1856 date for distribution to Congress and other influential people. Once the new small cents were approved, the early pieces gained in popularity. The Mint would later produce approximately 2,000 to 3,000 additional pieces which were sold to collectors.
The 1856 Flying Eagle Cent is highly valued at all grade levels. Examples which have seen extensive circulation and grade G-4 can still sell for more than $5,000. The finest known examples graded MS66 can sell for more than $150,000.