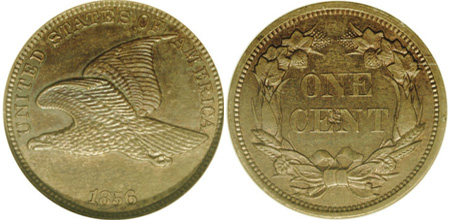 The 1856 Flying Eagle Cent (Buy on eBay) was produced as a pattern, although it is typically collected as a regular issue of the series. Due to its limited total mintage, the coin has come to be recognized as a key date and carries a high value at all grade levels.
Initially, several hundred pieces were produced for distribution to Congress and other influential people. Once the new small cents were approved, the early pieces gained in popularity. The Mint would strike many more examples to satisfy the demand from collectors. These coins can be found with either uncirculated or proof finishes, although there is some debate as to whether all strikes should be considered proofs. The overall mintage has been estimated at 2,000 to 3,000 pieces.
The 1856 Flying Eagle Cent is highly valued at all grade levels. Examples which have seen extensive circulation and grade G-4 can still sell for more than $5,000. The finest known examples graded MS66 can sell for more than $150,000.
Coin Specifications
Designer: James B. Longacre
Composition: 88% Copper, 12% Nickel
Weight: 4.67 grams
Diameter: 19 mm
Edge: Plain