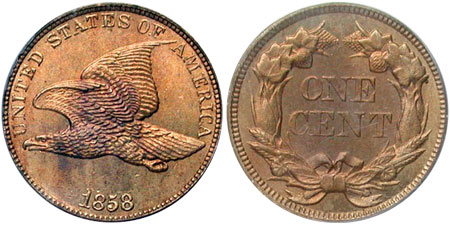 After just two years of full scale production for circulation, the Flying Eagle Cent series would conclude. Although the format and design had been well received by the public, the coins had proven difficult to strike and a new design was developed.
The 1858 Flying Eagle Cent (Buy on eBay) had a total mintage of 24,600,000, which is the highest of the series. From this number, three major varieties are identified. This includes the 1858/7 overdate, which is believed to have been created when a die from the prior year had the final digit updated. This variety carries a premium at all grade levels, particularly for mint state examples with the "7″ visible.
The "large letters" or "small letters" varieties are also identified for this issue. These can be differentiated by examining the lettering for "AMERICA" on the obverse of the coin. In particular, the letters A and M will be joined for the large letters variety, while they will be separated for the small letters variety. A small number of proof strikings were made for each version.
Coin Specifications
Designer: James B. Longacre
Composition: 88% Copper, 12% Nickel
Weight: 4.67 grams
Diameter: 19 mm
Edge: Plain