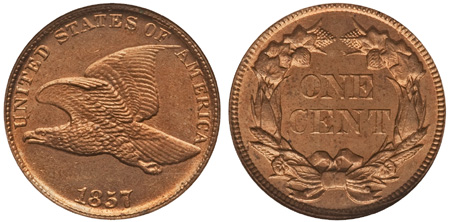 The 1857 Flying Eagle Cent (Buy on eBay) was the first coin of the series struck for circulation. The prior 1856-dated issue had been produced as a pattern to show the concept of a small cent to members of Congress and other influential individuals. The prior one cent coins had been larger and contained a great deal more copper. There had been worries that the public would feel that their coinage was being debased.
When the new Flying Eagle Cent was released, it was met with enthusiasm from the public. There were long lines to obtain examples of the new coins, and some were immediately sold for greater than face value on the street. The Mint allowed people to exchange their circulating foreign silver and old copper issues for the new cents. On the whole, the switch from a large sized cent to a small cent was a success.
The coins were minted in quantity since they were used to replace the large cents currently in circulation and were also offered in exchange for Spanish silver coins which could no longer be used as legal tender. The total mintage reached 17,450,000 pieces, with a very small number of proofs also produced.
Values range from a low of around $25 for pieces in well worn condition to around $300 for MS60 graded examples. Prices escalate for examples in higher mint state grades, particularly for those with original surfaces and good eye appeal.
Coin Specifications
Designer: James B. Longacre
Composition: 88% Copper, 12% Nickel
Weight: 4.67 grams
Diameter: 19 mm
Edge: Plain